Apologies for the lag time; I've been preoccupied with some stuff relating to my new job in January (spoiler alert!) and now I have to prepare for BroMei's upcoming visit to the Hacienda this week. On to the entry currently in progress...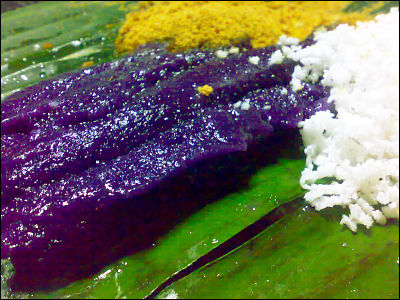 Mmmm, puto bumbong! (from ClickTheCity.com)

Unfortunately for us, you will not find any
puto bumbong
, or any other holiday treat from the Philippines, in this entry. That's because we're turning our attention to our Filipino friends and relatives overseas, who are either terribly homesick or at least curious about the big to-do about anything Pinoy-related. There has been a significant increase in product quality for many "Pinoy" products in the last few years - be it products from Philippine companies, or goods created by Filipinos for the international market - so now's a good time to check 'em out.
(Disclaimer: No samples were provided by the manufacturers for this story. Yep, not even the manufacturers of puto bumbong... darnit!)
For the glamazon Pinay:
While the Filipino fashion press continues to rave about our countrymen conquering the global market (Monique Lhuillier, Rafe Totengco, Bea Valdes, etc.), not much has been written about makeup-artist-to-the-stars
Mally Roncal
. Leaving aside any theories about ethnicity and aesthetic taste here, I think that part of the reason why she's been slept on in the local press is because her eponymous line,
Mally Beauty
, has yet to be made available locally... or at least legally, through an actual brick-and-mortar Manila retail outlet. Until that happens, though, let me save everyone the trouble of going through QVC by providing some Amazon Associates links to a few Pinay-friendly Mally products.
As an extra bonus, here's Mally extolling the virtues of a quintessential Filipino favorite: Jufran Banana Sauce! (From one Pinay to another, Mal: Jufran has always been considered "ghetto ketchup" in this household! Bless.)

For the glamazon Pinay, TFC edition:
As tacky as it would be for me to suggest a "skin whitener" in this blog, I have to throw some love to the celebrity-endorsed
Belo Essentials
skincare line. For one thing, I have a (non-Filipino) friend who's super-impressed by the moisturizers in this line, which were developed by celebrity dermatologist Dr. Vicki Belo and her
BeloMed
team.* Then there's the
Smoothening Whitening Bar,
which recently got kudos from
Preview
's Best of Beauty awards for being an excellent exfoliating soap for the shower. I won't recommend these products for their original purpose of "whitening" (unless you really want to look like
Sammy Sosa
- and, seriously,
no
) but I can recommend it for evening out pigmentation issues on most Filipino and Asian complexions.
*And as of November of this year, the Belo Med team no longer includes this guy. FINALLY.
For the nationalist Pinay:
You've got your
Pilipinas shirts
and
national-hero wallets
... so why not show more love for your country with some Pinoy-lovin' bath products? This is where the
Human Heart Nature
brand comes in: their organic ingredients are sourced from the Philippines, including plants and herbs grown by
Gawad Kalinga
residents in community gardens. (No surprise, given that the folks behind the brand are the daughters of GK founder Tony Meloto.) The current Human Heart Nature online store ships mostly to the Philippines (with international shipping via FedEx for an additional fee), so those of you who are interested in the line can start with the
Christmas bundles
, which feature sets for everything from lip balm and body butter to insect repellant and hand sanitizer.
For the spa-loving Pinay:
Another emerging Filipino brand,
Leyende Organics
, works in a similar vein as Human Heart Nature: biodegradable, sulfate-free organic products for hair and skin, produced as part of livelihood projects to benefit members of the community - in this case, single mothers and disadvantaged women. In Leyende's case, however, these efforts translate to the production of gorgeously packaged, spa-worthy products with cheeky names like
Mother Butter lotion
(with cocoa butter) and
Cool Hand Soup hand sanitizer
. The current Leyende online store ships mostly within the Philippines (check
here
for brick-and-mortar outlets that carry the line) but international customers can purchase gift packs from
Filgifts.com
- saving transplanted folks lots of dough on shipping, packaging, handling,
and
individual pricing for certain products. Awesome. :)

And, on that note, we shall conclude this year's edition of the Domesticity Holiday Gift Guide. Will be back soon after Christmas with a proposed entry on how to tastefully recycle one's Christmas gifts. Toodle-oo for now... and hope you have a blessed, beautiful, and thoroughly happy Christmas holiday season!