I usually don't apologize for putting comfort over cuteness when it comes to shoes, but between my work at the bookstore and the running-around I do for class, comfy shoes are all I have to wear at this point. And trust me, speaking as somebody who recently ruined an otherwise beloved pair of leather flats after 7 hours on my feet, I can't afford to have anything else on my feet.
So I've been doing a lot of outdoor stuff this summer because of my Environmental Science class. Most of our work requires "covered shoes," and for me that means sneakers. (Yeah, like I'll ever get away with sullying my beloved suede wedge loafers, right.) Unfortunately, however, my one lone pair of running shoes got sullied after a particularly trying day out in the field, and until I can find where I put my sneaker shampoo to clean off all traces of red dirt and the occasional speck of horse poop, I'm afraid that I'm going to be on the market for new running shoes.
In the meantime, however, I've started drooling over my classmate's
Keen
hiking shoes, and since I can't find the exact model online any more, I thought I'd share with you the next best thing: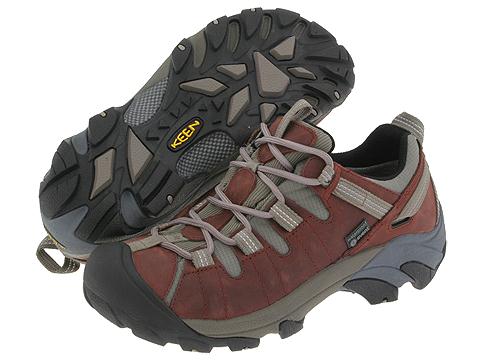 Ladies and gentlemen, the Keen Targhee II, available now at Zappos.com and shoes. com. I'd buy this right away if it weren't for the fact that I just blew the exact same amount of money on my Science textbook alone... which means that the next next best thing for me would be to go out to Sears or Lady Foot Locker for another pair of dirt-worthy running shoes that I can also wear to (and from) work.
And speaking of covered shoes...
Sanuk Sidewalk Surfers
at a surf shop (
Margie, if you're reading this, it's the surf shop where Cheapo's Books used to be on Puck's Alley
) and when I tried them on I was practically in heaven. I mean, think about it: the casual look of a loafer, the feel of a broken-in pair of Vans slip-ons,
and
the cushy sole of a rubber flip-flop without the annoying thong? For $59.95, I would've been so there... but then again, you know me - always spending my hard-earned money on those damned groceries.
Then again, that shop doesn't even have the women's versions of the Sidewalk Surfer. Because if that were the case,
these babies
would have been mine...
Must. Wait. Till. Next. Paycheck....