Okay, guys, I think it's time I did my own take on the whole men's grooming thing. It's not like I'm going to nag you into picking up the GQ or going to Sephora with me. And don't even think for a moment that I will use this as an opportunity to buy something for you; even if I wasn't broke, I trust that you're old enough to make your own purchasing decisions on toiletry products. Which is good, because this post is all about the choices that you will have to make when you do put your own spending power to use.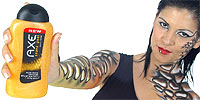 My inspiration for this post comes from the makers of
Axe
, who have recently come up with a product that I will best describe as an exfoliating shower gel and body wash. A great idea, since an exfoliating product can help you take care of things like ashiness and body acne... except that this product is sold by the equally lovely name of Axe Snake Peel.
SNAKE PEEL?!?
Don't get me wrong; it's still an okay product, and if you're into things like "desert minerals" and earthy, musky fragrances, you can do worse. Let me put it to you this way, though: If I was your bratty little sister, and I found this in your shower, not only would I take pictures of the bottle, but I'll devote an entire MySpace blog to said pictures of your Snake Peel, for all the girls to see. And you don't want that to happen, do you?
That said, if you're looking for another way to get your scrub on, we here at Domesticity are way too happy to help you out. And we can do this without having to drag you all the way to Sephora.
Mild to moderate scrubbing:
No need to switch your soap yet. Just pick up one of these scrubby Japanese washcloths - we call them "goshi goshi" 'round here - and lather 'em up in the shower with your favorite soap or body wash. They're flexible enough to pull around your back, but soft enough to use on most days. Just be sure to use a moisturizing and gentle soap/wash with the cloth, though, or you'll end up with tight, dry, itchy skin all over.
Advanced scrubbiness:
If you're the type who could use more exfoliation and are willing to go upscale, you're in luck - a lot of major cosmetics companies are doing body scrubs that are gentle enough for your body without the cloyingly sweet scents.
Men's Health
recommends
the exhiliratingly sexy scrub from Molton Brown
;
Allure
gives
Bliss' minty formula
the thumbs up; and Lush has a citrusy
Ocean Salt scrub,
which shares similar ingredients with the
Sea Vegetable soap
that's (allegedly) favored by Jude Law. Bonus: On top of the un-cloying fragrances (good enough to use without cologne) and handsome packaging, none of these products are named after molting reptiles.
Intense scrubbiness:
There are some times when certain parts of your body - and by this we mean your hands, feet, and other easily callused parts - will need more scrubbing than your average scrub can handle. No, we're not recommending busting out the steel wool and going all Norm Abram on your calluses, but we do recommend scrubs that have an extra kick to them - like
Origins' Ginger Body Scrub
, which has bits of real ginger to warm your limbs and scrape up more dead skin cells.