Those of you who know me know that I am not a fan of steamy pot-boiler TV dramas masquerading as teen shows. Believe me, I've tried - yep, that was me running around my middle school in gigundo T-shirts with Jason Priestley and Luke Perry on them, but that still didn't mask the fact that the original
Beverly Hills 90210
made my teeth ache. (The less said about the remake, the better.) Same goes with the likes of
Dawson's Creek
,
The OC
, and
Laguna Beach
...
and, yes, even
The Hills
, which I only enjoy in two-minute doses.
I've said it before and I'll say it again: If I wanted to live vicariously through the fictional lives of rich, spoiled teens who get all emo at the drop of the hat, all I need to do is gather up my high school friends on Facebook for a nostalgic chat-a-thon - complete with incriminating photos and lots of tequila.
It also goes to show that my beauty-blogger badge should be confiscated ASAP because I also am completely averse to
Gossip Girl
. Mind you, it's the show - and the hype - that gives me the hives; I could care less about the
supposedly cute boys
that the show passes off as eye candy. (Besides, the whole cougar thing? Been there, done that, still ashamed of it all.)
That said, I do have a few things about the two lead actresses on the show.
Blake Lively
, I don't mind much; she reminds me a bit of a younger
Poppy Montgomery
, and both of them could pass for girls that I actually went to school with - blonde, sporty, friendly but far from bubble-headed.
And then there's the inspiration for today's blog entry: Leighton Meester, the lovely brunette who plays Blair Waldorf.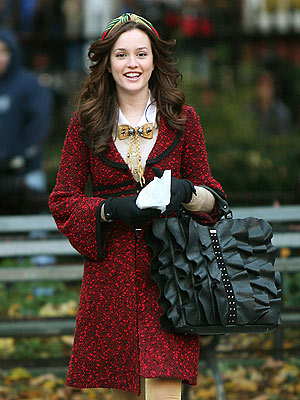 Look at her! She's young! She's gorgeous! She can still carry off a tweed coat and an oversized bag with leather ruffles AND a bow tie AND a preppy scarf in her hair! Nothing at all like yours truly...
...except that The Scribe says that I bear an uncanny resemblance to the lovely Ms. Meester. An older, tanner, more Filipino version of Ms. Meester, but still.
I can see it around the mouth and the eyes, although her face is a little longer, and my cheeks are chubbier. Otherwise, I probably resemble Blair Waldorf in almost the same way that (according to some of my family members) The Scribe resembles J. Lo, especially when she ties her hair back.
So now I have to go to the website for The CW and get over my teen potboiler aversion for a few Blair-tastic clips. In the meantime, here's my own (age appropriate) wardrobe homage to Gossip Girl, which I decided to do after writing about the Britney skirt recently...
I plan on wearing this with black hose, a cardigan, and kitten heels. So preppy.